droidcon is proud to have worked with businesses that are helping to drive the Android market. And this year we are once again looking for generous sponsors who will work with us to create an unforgettable and invaluable droidcon Italy!
⇒ How does your organisation make a difference to Android coders and developers?
⇒ Who do you want to reach to ensure your product is a 'must have'?
⇒ Do you realise quite how much exposure your brand could benefit from by working with droidcon??
droidcon is attended by more than 850 Android developers who are keen to learn more about the latest changes and opportunities in Android world, they also want to meet with potential providers – they are coming to droidcon to do business!
Your brand can be at the forefront, aligned to the whole event image, from the moment attendees click to register for droidcon, when they pay attention to the excellent Keynote speakers and when they relax with their coffee…. Sponsorship opportunities for 2017 include:
By sponsoring the event you will be promoting your business to more than 850 attending developers and you will be part of the success of this incredible Android happening!
Contact us for more information on each package and how we can tailor your droidcon experience to meet all your business needs. We're looking forward to hearing from you!
Lucy
lucy.james@droidcon.it
+39 342 857 1246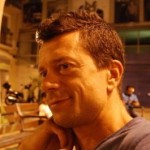 Francesco
francesco.brocero@droidcon.it
+39 348 473 1231